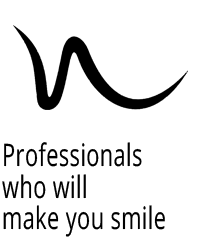 Clinic
The Valenti Dental Clinic was founded in 1978 with the aim of safeguarding the health of the oral cavity of its patients from diseases of dental competence. The organization and working methodology have always been aimed at achieving optimal clinical results, paying the utmost attention to the individual. All the staff of the practice is committed to creating a hospitable environment enhancing the doctor-patient relationships.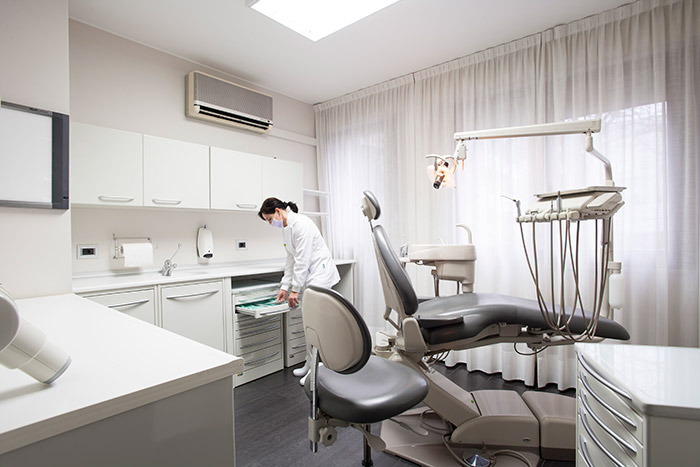 The high professional level of the entire team of Studio Valenti is maintained through continuous education in national and international courses in the various dental disciplines and in the training of our internal staff. In addition to quality, the health and hygienic aspect is one of the priorities of Studio Valenti; to prevent cross-infection (Hepatitis, HIV, etc.) we pay the utmost attention to instrument sterilization following very strict protocols. In recent years, the technology has entered forcefully in dentistry. The practice has always been up to date both from the management point of view, with support software for patients downloadable on smartphones and tablets, and the operational point of view, providing the latest TC technology and Oral Scanner to perform digital intraoral impressions.
Awards and recognitions
A selection of some of the most prestigious awards and prizes obtained in the dental field.
AIOP
Dr. Marco Valenti has been admitted as an active member of the Italian Academy of Prosthetic Dentistry and he is a speaker in International Courses and Congresses on prosthetics and aesthetics subjects. He has been a member of the Scientific Committee of the same academy since 2011
EAO
Dr. Francesco Valenti is an active member of the European Academy of Osteointegration
University of Milan
Dr. Alessandro Valenti specialized in Odontostomatological Surgery with a score of 70/70 and Lode
AcaMID
Il Dott. Francesco è socio fondatore dell'Academy of Minimally Invasive Dentistry
ASFOR
Dr. Alessandro Valenti won in 2006 the first national award Asfor "e-talenti dell'eLearning" for his thesis in dentistry
University of Chieti and Pescara
Dr. Francesco Valenti graduated from the Masters in Odontostomatological Legal Medicine of the University of Chieti and Pescara
SICOI
Il Dott. Alessandro Valenti è stato ammesso come socio attivo dalla Società Italiana di Chirurgia orale e Implantologia
Publications in scientific journals
A selection of some of the most important publications in international journals in the sector.
International Journal of Esthetic Dentistry, ​2015
Retrospective survival analysis of 110 unused lithium crowns with featheredge marginal preparation
I​nternational Journal of Prosthetic Dentistry,​ 2015
Clinical evaluation of zirconia-based restorations on implants: a retrospective cohort study from the AIOPclinical research group. Published in collaboration with Prof. Scotti and AIOP group
I​nternational Journal of Prosthetic Dentistry,​ 2015
Clinical evaluation of tooth-supported zirconia-based fixed dental prostheses: a retrospective cohort study from the AIOP clinical research group. Published in collaboration with Prof. Scotti and AIOP group
I​nternational Journal of Prosthetic Dentistry,​ 2013
Clinical evaluation of 1,132 zirconiabased single crowns: a retrospective cohort study from the AIOP clinical research group. Published in collaboration with Prof. Scotti and AIOP group
Quintessence International, 2009
264 lithium disilicate crowns in a private general practice
Dental Cadmos (2), 2010
Published in collaboration with Prof. A. Sardella, Dr. G. Lodi and Dr. Celestino, Pispero and Nicali of the University of Milan
The European Journal of Esthetic Dentistry 1(3), 2006
The metal free approach, published in collaboration with Dr. D. Cortellini and the Odt. A. Channel
Dental Cadmos (5), 2007
Published in collaboration with Prof. A. Sardella, Dr. G. Lodi and Dr. F. Demarosi of the University of Milan
Quintessence International, 2007
The metal free approach, published in collaboration with Dr. D. Cortellini and the Odt. A. Channel
Giornale dell'Odontoiatra, 2007
Interview with Dr. Alessandro Valenti